Even though you love your air conditioning unit during the hot summer days, you might not love the way it looks in your outdoor space. Fortunately, there are many things you can do to hide an air conditioning unit and turn it into a stylish part of your yard.
If you are in the mood for a DIY project, now is the time to get inspired and build something to hide your AC unit. Before we teach you how to hide your AC unit, there are several essential guidelines that you must remember:
Be sure not to block the air flow around it. Hiding your AC unit is a good idea, but you have to make sure to not block the air flow around it. If you do, your unit will not only become less efficient, but it could also overheat and get damaged.
Don't forget your AC unit will need maintenance. No matter what you decide to build around your AC unit to make it disappear, don't forget that you will need to be able to easily access it whenever it requires maintenance or repairs.
Indoor Air Conditioners
If you have an indoor AC unit mounted on the wall of your house or apartment instead of a big outdoor unit, you can use the following methods to hide your AC unit:
1. Install a cabinet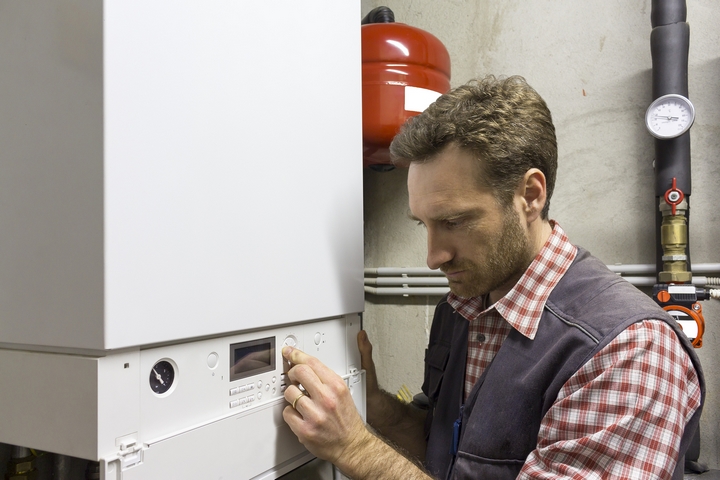 Installing a wall-mounted cabinet is an easy way to cover an indoor AC unit, and it can even add some storage space to any room.
Choose a cabinet with die-cut designs to allow for enough air flow for your unit to be efficient. When your unit needs some maintenance, all you have to do is open the cabinet doors.
2. Install a wall-mounted shelf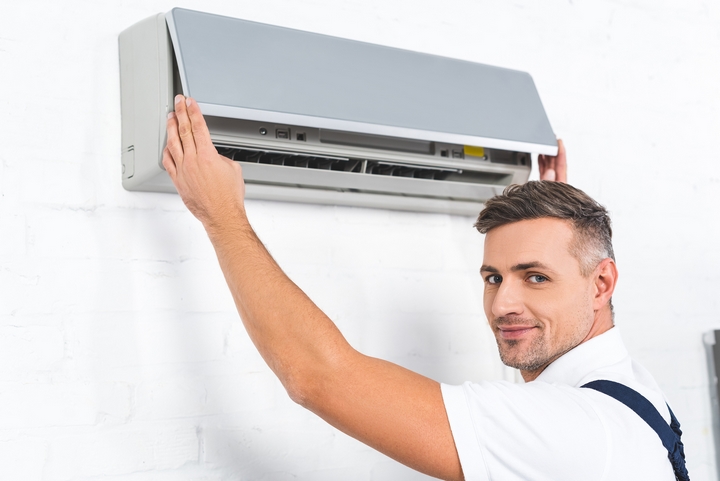 If you can't find the right cabinet, a custom wall-mounted shelf could be another way to hide your AC unit while enjoying some extra storage space.
A stylish slatted wood door will hide your unit, and the rest of the shelf will be perfect for displaying decorative items, or a few books.
3. Add a decorative wall panel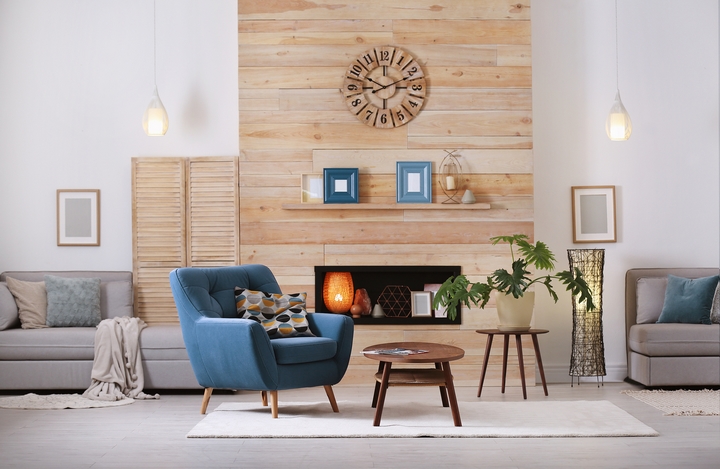 If you want to hide an ugly AC register, installing a die-cut decorative wall panel over it could be a good option. An elegant panel can turn anything into a work of art.
It's also possible to purchase decorative register covers that can match your decor, so if you have a few AC registers in your home, start shopping for their new look.
Outdoor Air Conditioners
Hiding an outdoor AC unit is possible. All you need to hide an outdoor AC unit is a good idea, a few tools, some materials, and a bit of time. Here are several ways how to hide your AC unit:
1. Build a pallet planter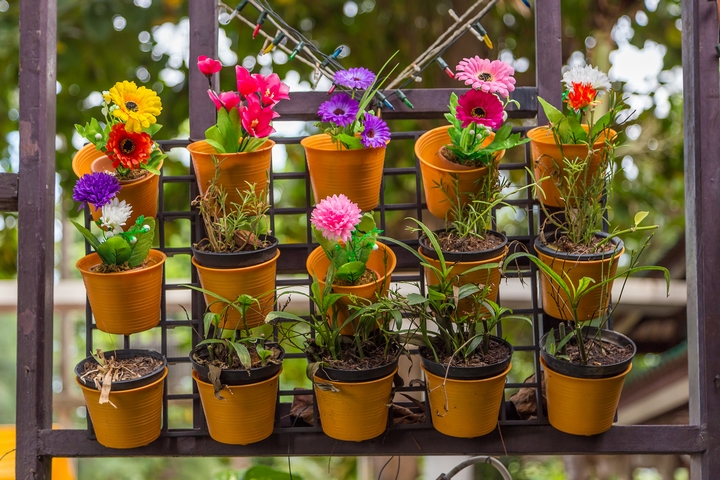 Vertical gardens are becoming more and more popular. They look great, and they are perfect for people who want to grow flowers or veggies, but don't have a lot of space in their yard.
With wood pallets, you can easily build a planter that will double as a cover for your AC unit. Hiding ugly equipment with a beautiful vertical garden is a clever idea.
2. Put up a vine wall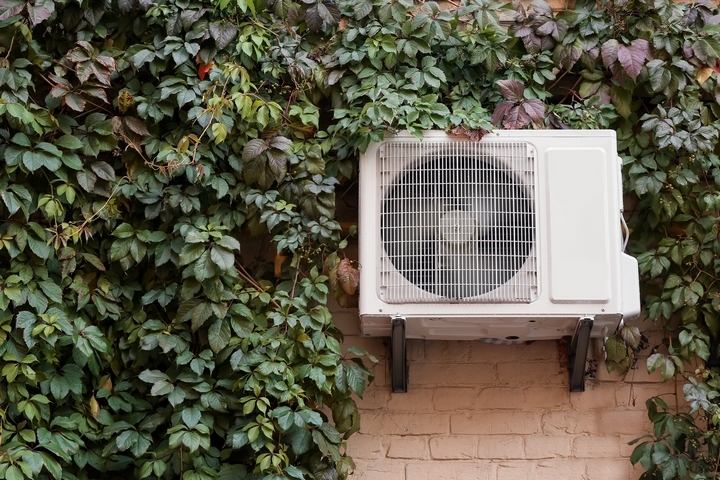 If you don't really have time to take care of a garden, you can still add some greenery to your outdoor space by hiding your AC unit with a vine wall. Put up some lattice around your unit, plant some morning glories or other vines, and watch them grow.
Don't forget to leave an easy access to your unit for maintenance, and make sure your lattice is not too close to the equipment, since the heat it releases could hurt the plants.
3. Build an AC cover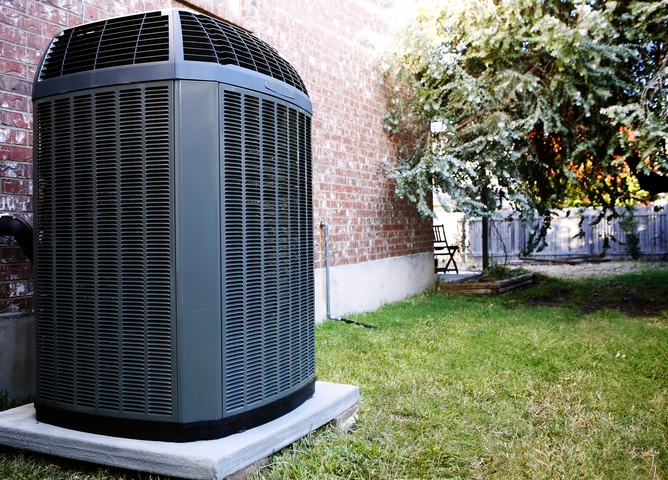 Building an AC cover doesn't have to be complicated. It can simply be a box made with wood planks, wood pallets, lattice screens, wooden slats, or a picket fence. You can also build a wall with patio stones or cement blocks.
You can find many detailed AC cover tutorials online. No matter what type of materials you decide to use, keep in mind that you have to not block the air flow around your unit.
4. Build some custom outdoor seating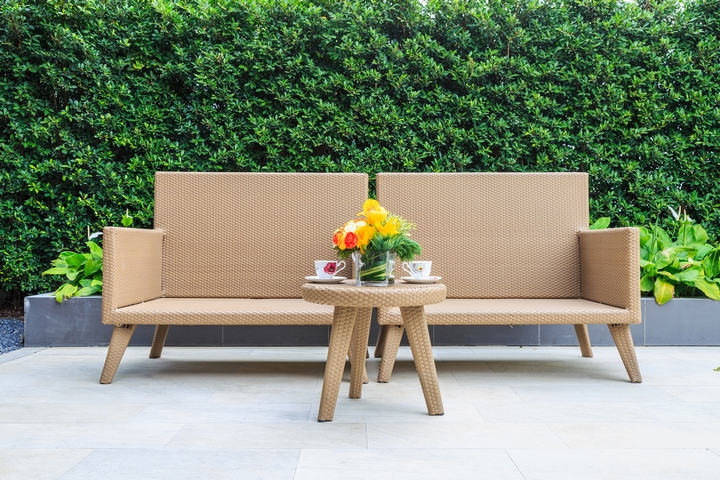 If you have a lot of experience with DIY projects that involve woodwork, why not build some custom outdoor seating that can hide your ugly AC unit?
Build a wooden bench with a part that covers up your AC equipment, paint it or dye it so it will match the decor of your outdoor space, and add some nice cushions. No one will know it's hiding an AC unit!
5. Plant some plants with big leaves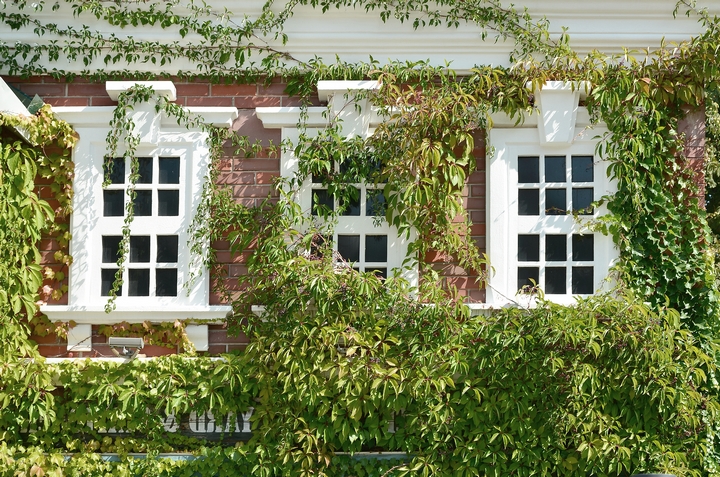 If you don't have the skills and the tools necessary to build anything around your AC unit, why not put your green thumb to good use?
Get some plants with big leaves that can grow tall enough to hide an AC unit, and arrange them around your equipment. Make sure the plants are not touching your unit, as the heat it produces could damage them.